SmartMoney Magazine Quote and Photo: Small Wonders
---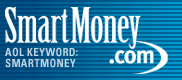 ---
This month's issue of SmartMoney Magazine (July 2003) has an article on starting knowledge-based businesses. When reporter Eleanor Laise left me a message that she wanted to interview me on the subject, I quickly went to the web to figure out what a "knowledge-based business" was so that I could talk intelligently about it. They also scheduled a photo shoot on the street in Manhattan, which was a lot of fun, as people were gawking at me trying to see if I was someone famous. Below is the photo, subtitle and quote from the article.

If you can't read the caption, it says "Smooth operator: Michael Drapkin, a technology consultant, works the phones to his advantage."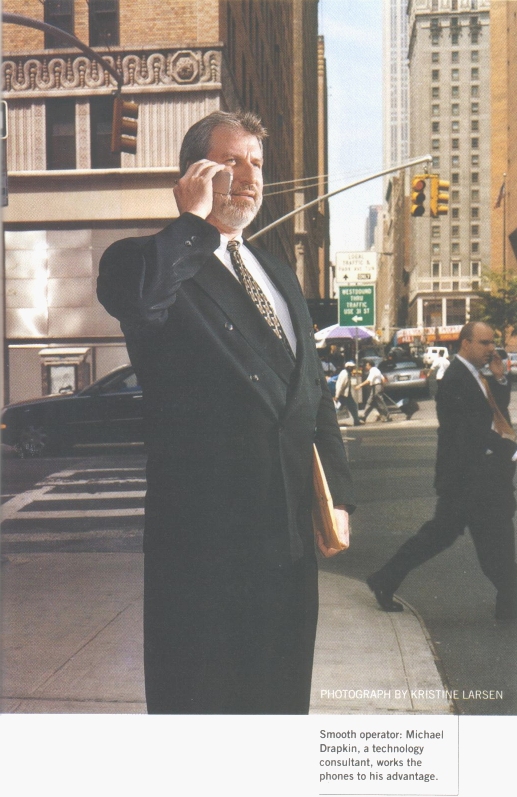 Subtitle: Forget about products and gadgets. Today's most successful entrepreneurs are building companies on one simple thing: what they know. Here's how you can too.

Quote: And consider having a graphic-design firm create your stationery. Michael Drapkin, a technology and management consultant in the New York City area, spent around $10,000 to have a professional design a Web site, business cards and letterhead for his company, Drapkin Technology. "It was very important for me in looking larger than I am, to establish myself as a serious player," says the 46-year-old entrepreneur.

If you work from home, it can be even more difficult to appear professional. Drapkin, who works out of a spare room, also invested in a $3,000 Toshiba telephone system, so he never misses a call. When someone leaves a message, the system calls Drapkin's cell phone to alert him to check his voicemail. To lend cachet to his company, he asked a friend-of-a-friend with a British accent to record an outgoing message.