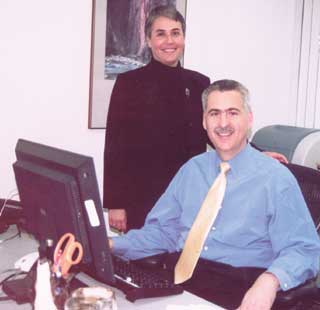 Business before technology
Application developer grows by focusing on results for clients
Two years ago when Business Week outsourced its order fulfillment operation, it realized it needed a better way to keep track of its weekly print runs than the two-decade-old system it had been using. That system relied on manual processing of all newsstand, non-subscriber and special copy requests.
So Business Week hired Pragmatix Inc. of Elmsford. Late last year, Pragmatix deployed a Web-based print order fulfillment system it developed, with electronic input from internal systems, vendors and managers around the world. Also developed was a Web-based secure system for collecting names of requestors, the version and quantity of magazines they want, and other details. No longer do employees scramble to process requests that previously streamed in via phone, fax and e-mail.
The new application requires one fewer employee. Even better for Business Week, it was able to save about 20 percent in postage and special-handling costs. The average time needed to process requests dropped from 20 minutes, to less than five.
"We could have continued with the old system — it did not break down — but the new system makes the process a lot smoother," said Tom Masterson, vice president and worldwide circulation director for Business Week. The McGraw-Hill-owned weekly has a circulation of 1.2 million, making it the top-selling English language business magazine.
"We're very happy with the system. Pragmatix did a great job," Masterson said.
Bill Abram, president of Pragmatix, said his company found out about the Business Week project through a consultant for the magazine who knew of Pragmatix through its work for The Reader's Digest Association Inc. of Pleasantville.
"Almost 100 percent of the time, our very best business comes from a referral, or from one of our own previous customers," Abram said.
He and his wife, Barbara, oversee a 12-person firm specializing in application development as well as Web hosting and Web and intranet services. In addition to Business Week and Reader's Digest, clients have included Bank of America, pharmaceutical giant Pfizer Inc., Freddie Mac and Pennsylvania's Compensation Rating Bureau.
The bureau, which processes information for workers' compensation cases, was able to do its work with two fewer employees after Pragmatix developed a new application.
"Our clients are really looking for two things: Immediate improvements in their business, because it's a tough economy. And they are looking for things that will help them grow and capitalize on their growth as business in general begins to turn around," Barbara said.
Annual revenues are "in the $2 million range," Bill said. Last year, Pragmatix grew 20 percent over 2001. "We're looking at approximately the same level of growth to continue in 2003," he said.
NARROW NICHE
Pragmatix is one of many smaller application designers that have succeeded in the relatively narrow technology niche of developing application systems for businesses. Despite their size, companies like Pragmatix often attract as clients corporate giants that find it cheaper to outsource the applications they need developed than hire employees to do that work, said Michael Drapkin, chief executive officer of Drapkin Technology, a Monsey consultancy that specializes in Web business and e-commerce projects.
"Despite the fact the technology market has gone sour, there are always opportunities in the specialized or vertical market if you have specific expertise. Even in hard times, niche players can do well," said Drapkin, a former chair of e-commerce management at Columbia University's executive IT management program.
Pragmatix projects can start as low as $20,000 or cost more than ten times that, depending on the complexity of the system required and the size of the business.
Abram said smaller businesses scared off by those costs could still hire the company to assess their technology needs and their resulting benefits for between $5,000 and $20,000, depending on business size.
In one case, Pragmatix advised a Port Chester marketing and sales services company it could benefit from a new application, then agreed when the company held off, since it did not need the technology immediately.
Six months later, when Stratmar Systems Inc. saw an opportunity to double its business with its largest customer, it went ahead with the project.
"It will allow us to interface electronically with all of our retail customers," said Ted McGrath, president and chief executive officer of Stratmar, short for "strategy" and "marketing." Established in 1969, Stratmar has 500 employees and does not disclose revenues.
After working for McDonnell Douglas Automation Co. and before that Montefiore Medical Center, Bill Abram went into business for himself in 1983 by establishing Abram & Yagoda Systems Group. The firm specialized in building applications based on local area networks with multiple-user personal computers.
By 1992, as companies began realizing how dramatically the Web would change how they do business, Abram founded Pragmatix. In addition to his business role, he is a board member for the public-private Westchester Information Technology Cluster (www.w-itc.com).
Barbara Abram, vice president of Pragmatix, plays key roles in strategic planning, finance, marketing and operations. She is also president of the Ardsley Union Free School District.
"When you think about where this industry was 10 years ago, even four years ago, you see how much the technology has changed during that time," Barbara said. "The constant change in the technology will continue to be the most interesting aspect of the business, and also the most important challenge."